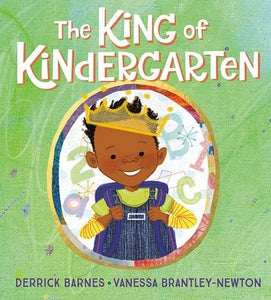 A New York Times bestseller!
A confident little boy takes pride in his first day of kindergarten, by the Newbery Honor-winning author of
Crown
.
The morning sun blares through your window like a million brass trumpets.It sits and shines behind your head--like a crown. Mommy says that today, you are going to be the King of Kindergarten
!
Starting kindergarten is a big milestone--and the hero of this story is ready to make his mark! He's dressed himself, eaten a pile of pancakes, and can't wait to be part of a whole new kingdom of kids. The day will be jam-packed, but he's up to the challenge, taking new experiences in stride with his infectious enthusiasm! And afterward, he can't wait to tell his proud parents all about his achievements--and then wake up to start another day.
Newbery Honor-winning author Derrick Barnes's empowering story will give new kindergarteners a reassuring confidence boost, and Vanessa Brantley-Newton's illustrations exude joy.