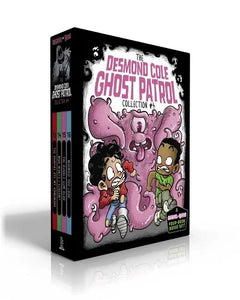 There's no job too spooky, icky, or risky for Desmond Cole and his best friend, Andres Miedoso, in this scary four-book collection of books thirteen through sixteen!
Welcome to Kersville, a town with a spooky history and a collection of ghosts and monsters who are major mischief-makers. Follow best friends Desmond and Andres as they find a homework-sucking vampire, run far away from the I Scream Man, fight a very sticky bubble gum blob, and nearly find themselves hypnotized by the Kersville Aquarium mermaid!
With easy-to-read language and illustrations on almost every page, the Desmond Cole Ghost Patrol chapter books are perfect for emerging readers.
This scary four-book paperback boxed set includes:
The Vampire Ate My Homework
Who Wants Ice Scream?
The Bubble Gum Blob
Mermaid You Look
BISAC Categories: