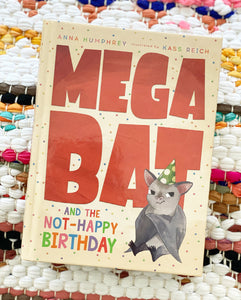 It's Daniel's birthday, and Megabat wants to join in all the fun, but his excitement gets the best of him and suddenly the birthday celebrations are on the brink of disaster. The next laugh-out-loud book in this sweet and funny chapter book series featuring a talking bat.
Daniel isn't in the birthday party mood. He hates his new glasses -- they're dorky, and he feels silly in them.
Megabat LOVES Daniel's new face windows! They make him dizzy and his tummy feel funny. And he loves parties even more!
Daniel starts planning his party, and things are looking up -- all of his friends are excited, and he has some fun games planned. Plus: presents!
Megabat's party excitement is losing steam. He has to hide the whole time. He can't eat any of the delicious buttermelon. And he can't participate in any games, even though it's the thing he wants most in the WHOLE WIDE WORLD.
When Megabat loses his temper and breaks Daniel's best birthday gift, he realizes he's been a bad friend and gives Daniel what he thinks is the best possible gift: he runs away. But being alone in the big, wide, world is harder than he thought. Kass Reich's adorable illustrations paired with Anna Humphrey's hilarious text make for another unforgettable Megabat adventure, one that will appeal to Megabat fans and newcomers!
BISAC Categories: