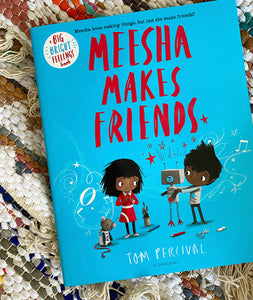 Meesha loves making things, but she finds it hard to make friends. This new title in the Big Bright Feelings series by Tom Percival is the perfect picture book for helping children understand how to be accepting of others.
Meesha doesn't know quite what to do, what to say, or when to say it, and she struggles reading and responding to social cues. But one day, she discovers that she has a special talent that will help her navigate challenging social situations and make friends.
A warm and affectionate look at the joys and difficulties of making and keeping friends, relating to others, and finding your place in the world, Meesha Makes Friends is an empowering and resonant new title in the Big Bright Feelings series.
The Big Bright Feelings picture books provide kid-friendly entry points into emotional intelligence topics--from being true to yourself, to worrying, to anger management, to making friends. These topics can be difficult to talk about. But these books act as sensitive and reassuring springboards for conversations about mental and emotional health, positive self-image, building self-confidence, and managing feelings.
Read all the books in the Big Bright Feelings series!
Perfectly Norman
Ruby Finds a Worry
Ravi's Roar
Meesha Makes Friends
BISAC Categories: