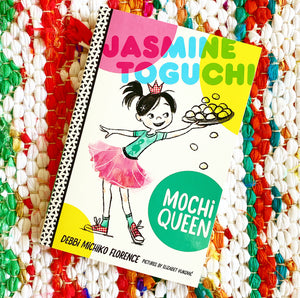 *A fun activity included in every book!*
A Junior Library Guild Fall 2017 Selection
An Amazon's Best Children's Books of 2017
A Beverly Clearly Children's Choice Award Nominee
An Evanston Public Library's 101 Great Books for Kids List 2017
A Chicago Public Library's Best of the Best Books 2017
A 2017 Nerdy Book Club Award WinnerA We Are Kid Lit Collective 2019 Summer Reading List Pick
The first book in a new chapter book series featuring a spunky Japanese-American heroine!

Eight-year-old Jasmine Toguchi is a flamingo fan, tree climber, and top-notch mess-maker!
She's also tired of her big sister, Sophie, always getting to do things first. For once, Jasmine wishes SHE could do something
before
Sophie
--
something special, something different. The New Year approaches, and as the Toguchi family gathers in Los Angeles to celebrate, Jasmine is jealous that her sister gets to help roll mochi balls by hand with the women. Her mom says that Jasmine is still too young to join in, so she hatches a plan to help the men pound the mochi rice instead. Surely her sister has never done THAT before.
But pounding mochi is traditionally reserved for boys. And the mochi hammer is heavier than it looks. Can Jasmine build her case and her mochi-making muscles in time for New Year's Day?