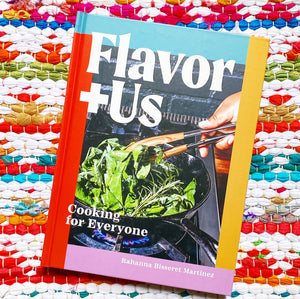 A mouthwatering dive into cuisines from all over the world, featuring more than 70 recipes that teach need-to-know cooking techniques and build confidence for anyone who wants a seat at the chopping board, stove, and table--from a

 

Top Chef Junior

 

finalist."Rahanna Bisseret Martinez's recipes are inspiring for the ways in which they approach, transcend, and unify cultural boundaries on page after delicious page."--Hawa Hassan, James Beard Award-winning author of

 

In Bibi's Kitchen

 


In this approachable cookbook, Rahanna Bisseret Martinez shares how to make food from around the world that respects the earth, workers, and consumers. A college freshman who has already cooked in the finest restaurants, she serves up lessons, tips, and tricks she has learned since her culinary career began at age thirteen, including techniques for everything from roasting and stir frying to pickling and infusing. The desserts and drinks chapters are perfect for hosting and making everyday meals special. 

Flavor+Us

 is filled with stories from Rahanna's experiences learning to cook in her family's Californian kitchen, her time competing on 

Top Chef Junior,

 

and the restaurants where she learned what cooking in community means.

 


Flavor+Us

 features recipes from:

 


- Mexico:

 

Masa Doughnuts with Earl Gray Glaze

- Haiti:

 

Makawoni au Graten

- Cuba:

 

Frijoles Negros

- Korea:

 

Yachaejeon with Cho Ganjang

- China:

 

Dry-Fried Green Beans

- The Philippines:

 

Dungeness Crab Tinola

- Japan:

 

Trinity Korokke

- Vietnam:

 

New Orleans-Style Vietnamese Iced Coffee

- Ethiopia:

 

Miser Wot

- Jamaica:

 

Jerk Eggplant Steaks

- And more!

 


This is the ideal resource for new cooks and anyone who wants to refine the basics. All are welcome at Rahanna's table.

 
BISAC Categories: