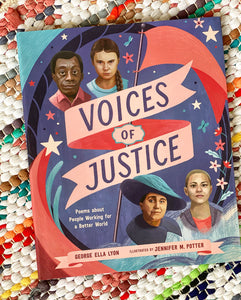 A bold, lyrical collection of poems that highlight some of the most celebrated activists from around the world and throughout history.
In the face of injustice, the world has always looked to brave individuals to speak up and spark change. Nelson Mandela used his voice to bring down Apartheid. Jane Goodall, Dian Fossey, and Birutè Galdikas gave a voice to the primates who couldn't speak for themselves. The Women of Greenham Common used their collective voice to fight against preparations for nuclear war. And today's youth--like Xiuhtezcatl Martinez, the students of Stoneman Douglas High School, and Greta Thunberg--unite their voices to stop gun violence, save the planet, and so much more.
Through enlightening poems by award-winning poet and author George Ella Lyon and stunning portraits by artist Jennifer M. Potter, Voices of Justiceintroduces young readers to the groundbreaking work of people who fought--and continue to fight--to make the world a better place.
Featuring those mentioned above along with Virginia Woolf, Dolores Huerta, Shirley Chisholm, Jasilyn Charger, Jeannette Rankin, and more, each portrait offers a vision of action and love that gets up and does something, no matter the forces ranged against it, no matter the odds.