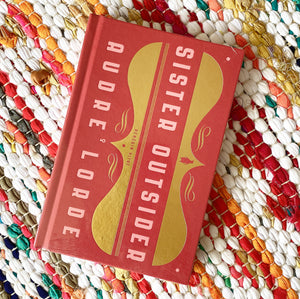 "Sister Outsider, a collection of essays and speeches by the pioneering feminist Audre Lorde, is one of my all-time-favorite books. It's always great to have an intersectional tome on hand." --Amanda Gorman
Sister Outsider's teachings, by one of our most revered elder stateswomen, should be read by everyone. --Essence
Presenting the essential writings of black lesbian poet and feminist writer Audre Lorde, Sister Outsidercelebrates an influential voice in twentieth-century literature, with a foreword by Mahogany L. Browne.
A New York Times New & Noteworthy book
A Penguin Vitae Edition
In this charged collection of fifteen essays and speeches, Lorde takes on sexism, racism, ageism, homophobia, and class, and propounds social difference as a vehicle for action and change. Her prose is incisive, unflinching, and lyrical, reflecting struggle but ultimately offering messages of hope.
The groundbreaking feminist's timely collection of nonfiction writings on race, gender, and LGBTQ issues is now for the first time in Penguin Classics as part of the Penguin Vitae series, with a foreword by poet Mahogany L. Browne.
Penguin Classics launches a new hardcover series with five American classics that are relevant and timeless in their power, and part of a dynamic and diverse landscape of classic fiction and nonfiction from almost seventy-five years of classics publishing. Penguin Vitae provides readers with beautifully designed classics that have shaped the course of their lives, and welcomes new readers to discover these literary gifts of personal inspiration, intellectual engagement, and creative originality.
BISAC Categories: