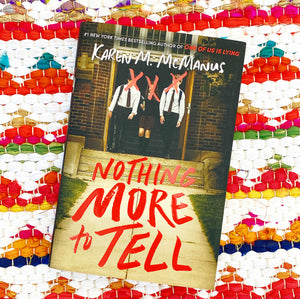 From #1 New York Times bestselling author of One of Us Is Lying comes a new page-turning mystery. Be sure to keep your friends close . . . and your secrets closer.
Four years ago, Brynn left Saint Ambrose School following the shocking murder of her favorite teacher--a story that made headlines after the teacher's body was found by three Saint Ambrose students in the woods behind their school. The case was never solved. Now that Brynn is moving home and starting her dream internship at a true-crime show, she's determined to find out what really happened.
The kids who found Mr. Larkin are her way in, and her ex-best friend, Tripp Talbot, was one of them. Without his account of events, the other two kids might have gone down for Mr. Larkin's murder--but instead, thanks to Tripp, they're now at the top of the Saint Ambrose social pyramid. Tripp's friends have never forgotten what Tripp did for them that day, and neither has he. Just like he hasn't forgotten that everything he told the police was a lie.
Digging into the past is bound to shake up the present, and when Brynn begins to investigate what happened in the woods that day, she uncovers secrets that might change everything--about Saint Ambrose, about Mr. Larkin, and about her ex-best friend, Tripp Talbot.
Four years ago someone got away with murder. More terrifying is that they might be closer than anyone thinks.
BISAC Categories: