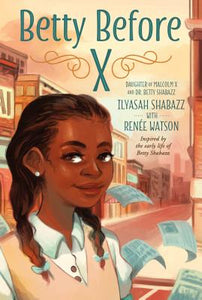 Betty Before X is a powerful middle-grade fictionalized account of the childhood activism of Betty Shabazz, Malcolm X's wife, written by their daughter Ilyasah Shabazz.

In Detroit, 1945, eleven-year-old Betty's house doesn't quite feel like home. She believes her mother loves her, but she can't shake the feeling that her mother doesn't want her. Church helps those worries fade, if only for a little while. The singing, the preaching, the speeches from guest activists like Paul Robeson and Thurgood Marshall stir African Americans in her community to stand up for their rights. Betty quickly finds confidence and purpose in volunteering for the Housewives League, an organization that supports black-owned businesses. Soon, the American civil rights icon we now know as Dr. Betty Shabazz is born.
Inspired by Betty's real life--but expanded upon and fictionalized through collaboration with novelist Renée Watson--Ilyasah Shabazz illuminates four poignant years in her mother's childhood with this book, painting an inspiring portrait of a girl overcoming the challenges of self-acceptance and belonging that will resonate with young readers today.
Backmatter included.
[T]his moving fictional account of the early life of the late civil rights leader and widow of Malcolm X draws on the recollections of family and friends. The result is
a heart-rending imagining of Shabazz's personal challenges as well as a rare, intimate look at the complex roots of the American civil rights movement
. A personal, political and powerful imagining of the early life of the late activist. --
Kirkus Reviews,
starred review
Absorbing
. . . History comes alive in this illuminating portrayal of the early life of this civil rights activist. --
Publishers Weekly,
starred review
An excellent work of historical fiction that will illuminate and spark discussion. --
School Library Journal,
starred review
Paperback.