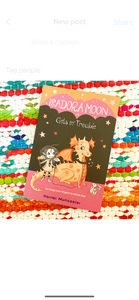 Fans of Vampirina and the Princess in Black series will love Isadora Moon: half-fairy, half-vampire, totally unique--and totally in BIG trouble!
Isadora wants to take Pink Rabbit to class for Bring Your Pet to School Day. But her older cousin Mirabelle has a much better plan--why not take a
dragon
? What could possibly go wrong. . . ?
Sink your fangs into all of Isadora's adventures!
Isadora Moon Goes to SchoolIsadora Moon Goes CampingIsadora Moon Goes to the BalletIsadora Moon Has a BirthdayIsadora Moon Goes on a Field TripIsadora Moon Saves the CarnivalIsadora Moon Has a Sleepover