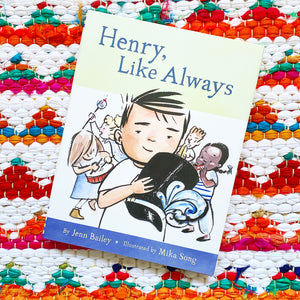 A beginning chapter book series based on the award-winning picture book,
A Friend for Henry!
Henry likes Classroom Ten. He likes how it is always the same. But this week, Henry's class will have a parade, and a parade means having Share Time on the 
wrong day
. A parade means playing instruments that are 
too loud
. A parade means this week is 
not
 like always.
Join Henry as he navigates the ups and downs of marker missiles, stomach volcanoes, and days that feel a little too orange. From the creators of the Schneider Family Honor-winning picture book 
A Friend for Henry,
this warmly funny book starring a child on the autism spectrum is a reassuring read for school-bound kids of all stripes.
GREAT FOR BEGINNING READERS: With short chapters and simple text, this book is perfect for newly independent readers who are just moving into longer books.
BACK TO SCHOOL: Familiar school scenarios--from new schedules to making new friends--are portrayed with humor and understanding in this series that will appeal to and reassure any child starting or continuing in school.
DIVERSE STORIES: Representing neurodivergent kids is a vital aspect of expanding diverse representation across books for all ages. 
Henry, Like Always
 provides a mirror and a window for kids on the autism spectrum and their friends to see themselves in the stories they read.
AN AWARD-WINNING TEAM: Jenn Bailey and Mika Song were awarded a Schneider Family Honor Award for their picture book 
A Friend for Henry
. See how the story continues in this classic-feeling early reader series based on the same character!
Perfect for:
Newly independent readers
An excellent resource for parents of kids on the spectrum
Librarians, teachers, and booksellers looking for a children's book that offers a window into the experience of autism
A reassuring read for kids with varying levels of social anxiety
Gift-givers looking for a sweet and relatable book about friendship
BISAC Categories: