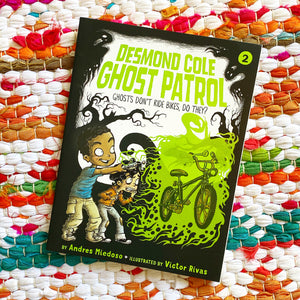 Desmond and Andres are in for a bike-riding adventure in the second book of the Desmond Cole Ghost Patrol chapter book series!
Welcome to Kersville, a town with a spooky history and a collection of ghosts and spirits who are major mischief-makers. Most kids spend their days without ever seeing or dealing with a ghost, but some kids get stuck with a haunt. When that happens, they call Desmond Cole Ghost Patrol. There's no job too spooky, icky, or risky for Desmond.
I'm not like that at all. My name's Andres Miedoso. I'm Desmond's best friend and ghost patrol partner.
So when Desmond and I are called to track down a ghost on wheels, Desmond is sure that ghosts don't ride bikes. Here's why: they float everywhere. Makes sense, right? But if there's one thing I've learned during my Ghost Patrol days, it's this: Never tell a ghost what they can or can't do.
With easy-to-read language and illustrations on almost every page, the Desmond Cole Ghost Patrol chapter books are perfect for emerging readers.