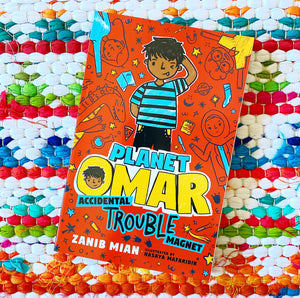 The first book in the exciting middle-grade series starring a Muslim boy with a huge imagination
--
now in paperback!
Welcome to the imaginative brain of Omar!
Omar and his family have just moved, and he is NOT excited about starting at a new school. What if the work is too hard or the kids are mean or the teacher is a zombie alien?!
But when Omar makes a new best friend, things start looking up. That is, until a Big Mean Bully named Daniel makes every day a nightmare! Daniel even tells Omar that all Muslims are going to be kicked out of the country . . . Could that possibly be true?
Luckily, Omar's enormous imagination and goofy family help him get through life's ups and downs.
Omar's funny, relatable narrative is the perfect answer to the call for both mirrors and windows to fill bookshelves with diverse stories.
-An NPR Best Book of the Year
-USBBY Outstanding International Book Selection
-2020 Global Read Aloud Selection
-Kirkus Reviews
Best Book of the Year
-Middle East Book Award Nominee
-New York Public Library Best Book of the Year (top 10)