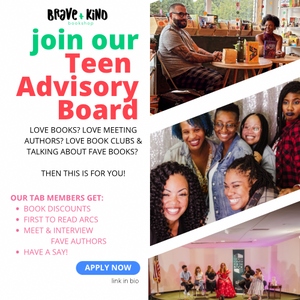 Teen Advisory Board Goals and Expectations
Our goal in creating the Teen Advisory Board (TAB) is to foster a community with our Teen readers and encourage life-long supporters of independent bookstores. We are looking for enthusiastic teens, ages 13-18, interested in all things book related who are able to meet once a month to review books, create interesting displays, volunteer at events, and give informed and unique event and buying input. 
TAB Members are encouraged to:
Give feedback and advice on upcoming releases

Write creative and fun blog posts
Promote Brave + Kind's YA events on personal social media accounts
Write Shelf Talkers for the YA section
Come up with fun themes and ideas for social media posts 
Give buying advice
Nominate a Buzz Book
Give feedback and advice on B+K Teen Events
Interview YA authors
Create fun book themed events for the store
Volunteer at author events
Recruit fellow book lovers for the Teen Advisory Board
Read and have fun!
Meeting Format
The teen advisory board will meet once a month with a B+K staff member to discuss ideas, book display themes, upcoming events, and write up shelf talkers of recent reads. We want our TAB to feel empowered to share their love of reading with us and our community.  We want to know what gets you excited, what authors you want to see, what we HAVE to buy and so on. 
Each TAB is unique to their members but they are all each encouraged to volunteer at B+K events in store or off site around Decatur.
Board members should be in a grade between 8th through 12th, at least 13 years old, and must have parental permission to participate on the board.
We'd like board members to attend monthly meetings and monthly author events. Missing more than 3 scheduled events (either the monthly meeting or the author event) will forfeit your position on the board.
Our primary source of communication regarding meetings and events (and other fun stuff) will be via email. 
What are the perks?
25% discount on book purchases

Be first to read ARCs (advance copies of books to be released)

Interview authors
Pre-event meet & greet access