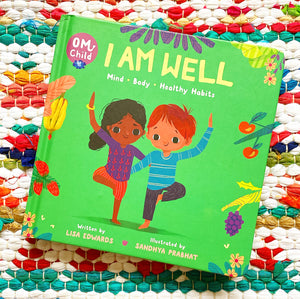 Yoga has many benefits as an ancient Indian mind-and-body practice, and it's never too early to start your little one!
I Am Well introduces little yogis to the principles of Ayurveda--the holistic mind-and-body system developed millennia ago in India.
Each spread shares a healthful rule. These include: Exercise every day. Eat well. Sleep well . . . and others.
Like the other three books in the series, I Am Well includes Sandhya Prabhat's sweet, adorable, and diverse cast of children. This board book is great for little kids whose caretakers want them to learn about how to be healthy.
Om Child is a calm and colorful board book series that features kids from all backgrounds enjoying yoga. It teaches readers about mindfulness and philosophy, which is often overlooked in favor of teaching poses.
BISAC Categories: