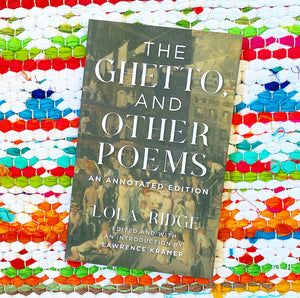 At last recovered in this enriching annotated edition, this important but neglected work of American modernism offers a unique poetic encounter with the Jewish communities in New York's Lower East Side.
Long forgotten on account of her gender and left-wing politics, Lola Ridge is finally being rediscovered and read alongside such celebrated contemporaries as Hart Crane, William Carlos Williams, and Marianne Moore--all of whom knew her and admired her work. In her time Ridge was considered one of America's leading poets, but after her death in 1941 she and her work effectively disappeared for the next seventy-five years. Her book 
The Ghetto and Other Poems
, is a key work of American modernism, yet it has long, and unjustly, been neglected. When it was first published in 1918--in an abbreviated version in 
The New Republic,
then in full by B. W. Huebsch five months later--
The Ghetto and Other Poems
 was a literary sensation. The poet Alfred Kreymbourg, in a 
Poetry Magazine
 review, praised "The Ghetto" for its "sheer passion, deadly accuracy of versatile images, beauty, richness, and incisiveness of epithet, unfolding of adventures, portraiture of emotion and thought, pageantry of pushcarts--the whole lifting, falling, stumbling, mounting to a broad, symphonic rhythm." Louis Untermeyer, writing in 
The New York Evening Post
, found "The Ghetto" "at once personal in its piercing sympathy and epical in its sweep. It is studded with images that are surprising and yet never strained or irrelevant; it glows with a color that is barbaric, exotic, and as local as Grand Street."
The long title poem is a detailed and sympathetic account of life in the Jewish Ghetto of New York's Lower East Side, with particular emphasis on the struggles and resilience of women. The subsequent section, "Manhattan Lights," delves further into city life and immigrant experience, illuminating life in the Bowery. Other poems stem from Ridge's lifelong support of the American labor movement, and from her own experience as an immigrant. This critical edition seeks to recover the attention 
The Ghetto, and Other Poems,
and in particular the title poem, lost after Ridge's death. The poems in the volume are as aesthetically strong as they are historically revealing. Their language combines strength and directness with startling metaphors, and their form embraces both panoramic sweep and lyrical intensity.
Expertly edited and annotated by Lawrence Kramer, this first modern edition to reproduce the full 1918 publication of The Ghetto and Other Stories offers all the background and context needed for a rich, informed reading of Lola Ridge's masterpiece.
BISAC Categories: